90 Years and Still Standing Strong!!
Welcome to the National Silver Fox Club!
Here you can find exclusive information about your Fox, fellow breeders in your area, upcoming shows where the Silver Fox is sanctioned, and so much more!
2023 Silver Fox Nationals
April 15 & 16, 2023
The NSFRC Board of Directors is pleased to announce that 2023 SF Nationals will be held in Canton, Ohio at the Stark Co. Fairgrounds at the Hall of Fame Classic on April 15/16 - National & Specialty shows on Saturday and a double all breed show on Sunday.
Information on Nationals Events and Registration
Benefit Auction at Silver Fox Nationals - April 15/16. See details for rabbit donation below: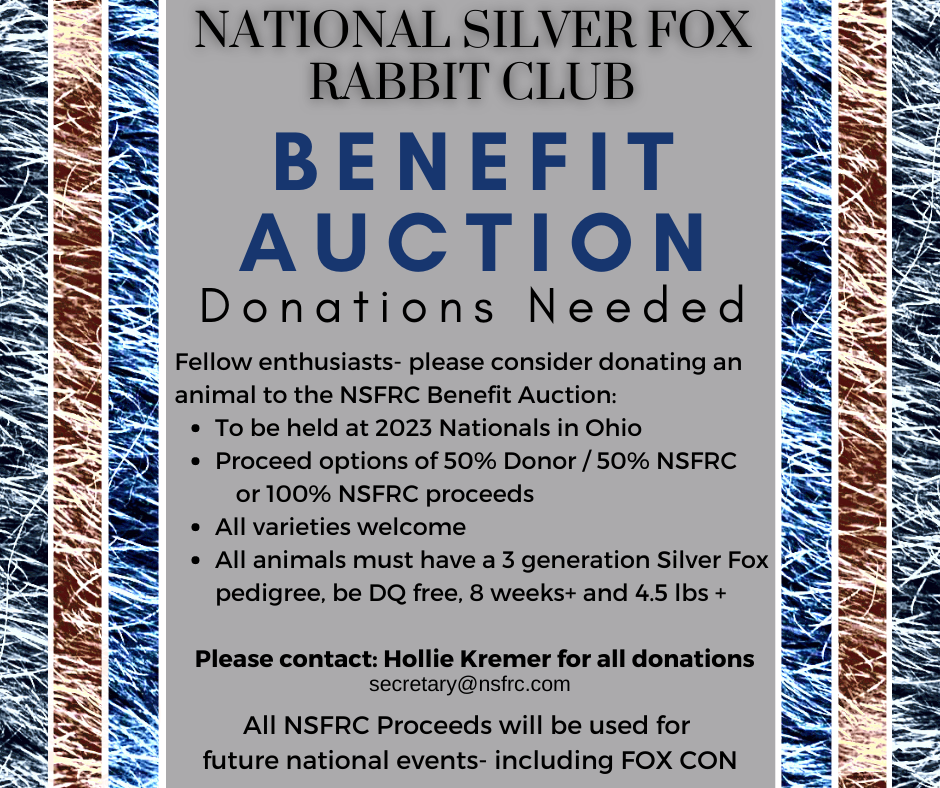 Not a member? We are so glad you decided to stop by and explore our site. If you just recently discovered this wonderful breed, just purchased your first Silver Fox, or have been an avid Silver Fox admirer for years - we hope we can provide you with information and support to make raising this special breed enjoyable and rewarding.
CHOCOLATE PASSED!!

Congrats to Meara Collins and her beautiful chocolates! Chocolate will be added as a recognized variety for the Silver Fox breed in the Standard of Perfection.
WE HAVE NSFRC 2023 Nationals T-Shirts
Click HERE to get yours!
Member's Information